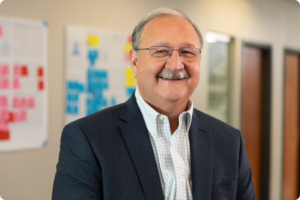 Christopher Schellhorn
Director general y Presidente
Chris is CEO and chairman of Confirmation, has grown the company exponentially since his start in 2002, and is responsible for product diversification and expansion efforts. He is a highly experienced CEO and a proven operator with a successful background in online transaction processing businesses within the financial services industry. He has managed several software and technology businesses and has served on numerous Boards of both public and private companies.
Antes de Confirmation, Chris fue el director general de Integrion Financial Network en el norte de Virginia.  Integrion creó la plataforma de banca en línea para los 18 bancos más grandes de Norteamérica, con VISA e IBM como socios y, bajo su dirección, Integrion aumentó su cantidad de suscriptores, de menos de 20 000 a más de 3,5 millones de cuentas en Internet con 30 millones de transacciones por mes.  
Prior to Integrion, Chris was brought in as the President and CEO of VISA Interactive, a wholly owned subsidiary of VISA International also located in Virginia.  His charge was to turn around the company and within 3 years Chris successfully led the company to break-even and grew the company to 500,000 subscribers with in excess of 10 million monthly transactions.  
Como presidente y director general de VISA Interactive, Chris dirigió el desarrollo de todos los sistemas de procesamiento de pagos distribuidos de VISA International para implementarlos en todo el mundo y brindó dirección estratégica a VISA International para todas las iniciativas de comercio electrónico. Durante el tiempo que ocupó la presidencia y la dirección general, Chris negoció con éxito la venta de VISA Interactive a Integrion. También administró la plataforma de tecnología que prestó servicios a 75 instituciones financieras en los Estados Unidos, Europa y América Latina.
Chris received his MBA from the University of Rochester in 1979, and graduated from the College of the Holy Cross with a BA in Economics in 1973.